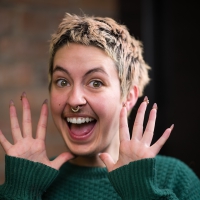 Zia (Alex) Healy
Mythic Stylist / Prince of Shears


change service provider
If you would like to book a colour service please call/email/DM us! Colours are no longer bookable online.
Level 5 Mythic/Assistant Manager
They/Them
Being raised by a hippie-turned-punk mom and a raver dad, Zia is a laid back person with strong roots in alternative music, fashion, and film. Before finding their true calling in hair styling, Zia started off as a film student. Holding on to their passion for film and everything alternative, Zia draws inspiration from old movies and popular culture for their haircuts.
They specialize in clean, classic barber cuts, tight fades, and hair tattoos, but have passion for hair of all lengths! They also love soft melts as well as bright colour designs. Whether you're looking for a fade, vintage inspired 'do, or to keep it a little more modern, Zia will hook you up!
In their free time, Zia likes chillin' at home with their cats, playing SNES, or watching Ghibli movies; if they're feeling extra spunky, you might find 'em out at a local show. Zia is also an active member of the LGBTQ community and takes part in local fundraisers and events whenever possible.
***If you are showing symptoms of sickness of any kind you will not be permitted to enter the salon and will have to reschedule your service. Safety is our highest priority***


When you arrive:

Please have your vaccine card and ID ready to show reception staff.

Please come alone! If you need assistance and must bring someone with you, please let the reception team know. Guests will be required to show their vaccine card and ID as well.

We will be keeping the door locked. The reception team will greet you to enter and verify your vaccine card and ID.

We require all visitors to wear a mask. If you do not have one we will have some available.

Please do not bring any outside food or drink!

Please show up to your appointment on time. We have a very strict sanitization schedule that we have to stick to for everyone's safety!

Hand sanitizer will be available at the front to use upon entry.


Thank you for your encouragement, patience and support through this time! We can't wait to see you 😊
Cancellation Policy
Due to Covid-19 we are currently waiving our cancellation policy until further notice. If you need to change or cancel your appointment please get in touch by phone, email or social media. Please refer to our website for further details.
Thank you from the Team at B-Bombshell Salon
info@bbombshellsalon.com
604-544-0199