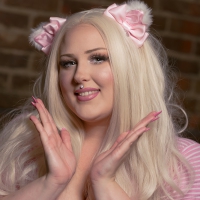 Taylor Campbell
Legendary Stylist / Heroine of Time


change service provider
If you would like to book a colour service please call/email/DM us! Colours are no longer bookable online.
Level 4 Legendary
She/Her
From the land of Hyrule, there lived an elf named Taylor, who loved to style & play with the other forest creature's hair. She enjoyed it so much, she decided to embark on an adventure to fulfill her passion. Along her journey, she learned from many powerful and legendary beings that bestowed her with the ability to form fun and creative styles and colours. Taylor continues on her quest to become the heroine of hair to create the most magical and mythical styles in all of the realm.
When Taylor is not busy saving all of the hair in the land, she enjoys playing video games, watching anime, attending cosplay conventions and watching movies, especially sci-fi/fantasy. Just some of her favorite video games include Legend of Zelda, Kingdom Hearts, Final Fantasy, Halo, Phantasy Star, Resident Evil, Doom and Animal Crossing.
When not playing games, you can find her watching anime such as Death Note, Terra Formars, Inuyasha, Blood+, Sailor Moon, Re:Zero, Cardcaptor Sakura, Food Wars, Studio Ghibli titles & Pokemon. She loves anything sci-fi or fantasy related, including the LOTR Trilogy and any of the Alien and Predator movies. Once in a while you can catch her attending the local cosplay/gaming conventions. Taylor also has a strong passion for Japan culture, Kawaii culture & J-fashion.
Begin your hair journey with Taylor to level up your look while nerding out & having fun!
***If you are showing symptoms of sickness of any kind you will not be permitted to enter the salon and will have to reschedule your service. Safety is our highest priority***


When you arrive:

Please have your vaccine card and ID ready to show reception staff.

Please come alone! If you need assistance and must bring someone with you, please let the reception team know. Guests will be required to show their vaccine card and ID as well.

The reception team will greet you to enter and verify your vaccine card and ID.

We require all visitors to wear a mask. If you do not have one we will have some available.

Please do not bring any outside food or drink!

Please show up to your appointment on time. We have a very strict sanitization schedule that we have to stick to for everyone's safety!

Hand sanitizer will be available at the front to use upon entry.
Thank you for your encouragement, patience and support through this time! We can't wait to see you 😊
Cancellation Policy
Due to Covid-19 we are currently waiving our cancellation policy until further notice. If you need to change or cancel your appointment please get in touch by phone, email or social media. Please refer to our website for further details.
Thank you from the Team at B-Bombshell Salon
info@bbombshellsalon.com
604-544-0199