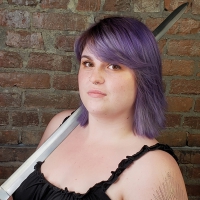 Evann Hutton
Epic Stylist / Book Wyrm


change service provider
If you would like to book a colour service please call/email/DM us! Colours are no longer bookable online.
Level 3 Epic
She/Her
Evann has a passion for making people feel their best, whether that means maintaining a look you've loved for years or a bold new change! Deep punky colours, shags, bobs, lobs, and pixies, she is dedicated to giving you the hair you want and teaching you how to keep it looking its best between appointments.
Evann is a bookworm through and through, and is well versed in all genres ranging from Harry Potter to Stephen King. An avid theatre lover, Evann spends her free time brushing up on her show tunes and performing as much as possible.
When she's not stealing the show at the theatre or working some hair magic, Evann can be found playing Stardew Valley, planning her next trip, or crushing her friends at Wii tennis. If you appreciate long discussions about travel, all things Disney, or literature she's the stylist for you!
***If you are showing symptoms of sickness of any kind you will not be permitted to enter the salon and will have to reschedule your service. Safety is our highest priority***


When you arrive:

Please have your vaccine card and ID ready to show reception staff.

Please come alone! If you need assistance and must bring someone with you, please let the reception team know. Guests will be required to show their vaccine card and ID as well.

We will be keeping the door locked. The reception team will greet you to enter and verify your vaccine card and ID.

We require all visitors to wear a mask. If you do not have one we will have some available.

Please do not bring any outside food or drink!

Please show up to your appointment on time. We have a very strict sanitization schedule that we have to stick to for everyone's safety!

Hand sanitizer will be available at the front to use upon entry.
Thank you for your encouragement, patience and support through this time! We can't wait to see you 😊
Cancellation Policy
Due to Covid-19 we are currently waiving our cancellation policy until further notice. If you need to change or cancel your appointment please get in touch by phone, email or social media. Please refer to our website for further details.
Thank you from the Team at B-Bombshell Salon
info@bbombshellsalon.com
604-544-0199