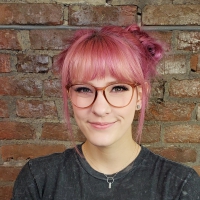 Lindsay Heighton
Legendary Stylist / Dragonborn


change service provider
If you would like to book a colour service please call/email/DM us! Colours are no longer bookable online.
Level 4 Legendary
She/Her
Lindsay has been playing with hair as far back as she can remember. When friends would ask "want to play outside?" she would reply with "how about I play with your hair instead?!" When high school came around she found herself spending all her time in the theatre. Eventually she ended up doing haircuts in the change rooms for her cast mates. Finally she was free to go get her degree and really start creating masterpieces!
Seven years of doing hair later Lindsay has seen it all! You name it, she's up to the challenge! Her personal favourites are doing all shades of the rainbow anywhere from pastel to neon, or bright and beautiful blondes! She also adores long mermaid length hair where the possibilities are endless. Her dream is to recreate a Harley Quinn hairstyle to bring her favourite character to life!
In her spare time you will find Lindsay at home playing a range of video games such as Skyrim, Legend of Zelda, Batman Arkham City, Resident Evil, Stardew Valley, Dark Souls, you name it! She also just started playing D&D and could spend hours on a single quest! She has a passion for fantasy, but also loves anything scary, dark, and twisted. You may also find her watching Rupaul's Drag Race, American Horror Story, The Office, Lord of the Rings, Pokemon, Sailor Moon, South Park, Studio Ghibli movies and pretty much anything Jack Black is in!
Lindsay is very attentive to your thoughts and ideas and will do everything in her power to make your hair dreams come true!
***If you are showing symptoms of sickness of any kind you will not be permitted to enter the salon and will have to reschedule your service. Safety is our highest priority***


When you arrive:

Please have your vaccine card and ID ready to show reception staff.

Please come alone! If you need assistance and must bring someone with you, please let the reception team know. Guests will be required to show their vaccine card and ID as well.

The reception team will greet you to enter and verify your vaccine card and ID.

We require all visitors to wear a mask. If you do not have one we will have some available.

Please do not bring any outside food or drink!

Please show up to your appointment on time. We have a very strict sanitization schedule that we have to stick to for everyone's safety!

Hand sanitizer will be available at the front to use upon entry.


Thank you for your encouragement, patience and support through this time! We can't wait to see you 😊
Cancellation Policy
Due to Covid-19 we are currently waiving our cancellation policy until further notice. If you need to change or cancel your appointment please get in touch by phone, email or social media. Please refer to our website for further details.
Thank you from the Team at B-Bombshell Salon
info@bbombshellsalon.com
604-544-0199