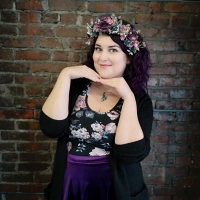 Shar Cuthand
Magic Stylist / Mystical Witch


change service provider
If you would like to book a colour service please call/email/DM us! Colours are no longer bookable online.
Level 1 Magic
She/Her
Shar graduated from VCC in 2018, but has been passionate about doing hair since she was young.
As a curly hair-haver, Shar loves helping other curly folks embrace their natural texture and care for their curls. She loves working with all lengths, and is really fond of doing razor cuts! A fan of a beautiful colourful balayage, Shar also loves to give people a pop of fun colour to help their hair match their sparkling personality. She is also an aspiring makeup artist!
In her off time, Shar likes to play musical instruments, makes candles and jewelry (anything creative, really), and spends a lot of time going on walks to enjoy nature and do photography. Shar's geekiness extends to the occult, and she also enjoys reading Tarot cards, studying the Zodiac and collecting crystals.
***If you are showing symptoms of sickness of any kind you will not be permitted to enter the salon and will have to reschedule your service. Safety is our highest priority***


When you arrive:

Please have your vaccine card and ID ready to show reception staff.

Please come alone! If you need assistance and must bring someone with you, please let the reception team know. Guests will be required to show their vaccine card and ID as well.

The reception team will greet you to enter and verify your vaccine card and ID.

We require all visitors to wear a mask. If you do not have one we will have some available.

Please do not bring any outside food or drink!

Please show up to your appointment on time. We have a very strict sanitization schedule that we have to stick to for everyone's safety!

Hand sanitizer will be available at the front to use upon entry.


Thank you for your encouragement, patience and support through this time! We can't wait to see you 😊
Cancellation Policy
Due to Covid-19 we are currently waiving our cancellation policy until further notice. If you need to change or cancel your appointment please get in touch by phone, email or social media. Please refer to our website for further details.
Thank you from the Team at B-Bombshell Salon
info@bbombshellsalon.com
604-544-0199