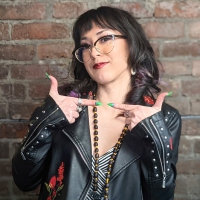 Kimiko Watanabe
Epic Stylist / Arcane Trickster


change service provider
If you would like to book a colour service please call/email/DM us! Colours are no longer bookable online.
Level 3 Epic
She/Her
A graduate of Blanche MacDonald, Kimiko has a background in competition training for colour, up styling, and cutting events and is excited to specialize in razor cuts, up styles, braiding, balayage, and curly hair cutting techniques.
Kimiko has had her fair share of side-quests and adventures. Much like the strong female heroine of your favourite romantic comedy novel, she spent years traveling independently overseas on a journey of character growth and self discovery. Only in this story, the only romance was with a piraña that made the first move. He'll have a piece of her forever.
As an avid backpacker and past technical theatre major, she enjoys pulling inspiration from her art background and experiences around the world to create dynamic and fun looks to fit each individual client. From hair tattoos to balayage, Kimiko is always looking for a fun challenge. When she's not spelunking, surfing, or chasing after a bus she most definitely left her passport on, Kimiko enjoys gaming, watching 80s horror movies, (if the blood shoots out looking like blood, is it even blood?) or screaming at true crime documentaries.
***If you are showing symptoms of sickness of any kind you will not be permitted to enter the salon and will have to reschedule your service. Safety is our highest priority***


When you arrive:

Please have your vaccine card and ID ready to show reception staff.

Please come alone! If you need assistance and must bring someone with you, please let the reception team know. Guests will be required to show their vaccine card and ID as well.

The reception team will greet you to enter and verify your vaccine card and ID.

We require all visitors to wear a mask. If you do not have one we will have some available.

Please do not bring any outside food or drink!

Please show up to your appointment on time. We have a very strict sanitization schedule that we have to stick to for everyone's safety!

Hand sanitizer will be available at the front to use upon entry.



Thank you for your encouragement, patience and support through this time! We can't wait to see you 😊
Cancellation Policy
Due to Covid-19 we are currently waiving our cancellation policy until further notice. If you need to change or cancel your appointment please get in touch by phone, email or social media. Please refer to our website for further details.
Thank you from the Team at B-Bombshell Salon
info@bbombshellsalon.com
604-544-0199