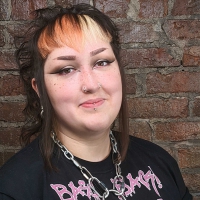 Sarah Harrison
Magic Stylist / Local Cryptid


change service provider
If you would like to book a colour service please call/email/DM us! Colours are no longer bookable online.
Level 1 Magic
They/Them
Sarah's hair adventures started at the tender age of 13 when they began colouring their own hair and the hair of their friends. From there they developed a deep passion for cosmetology. They went to school for makeup artistry first, then continued on to pursue a professional career in hairdressing.
Sarah most enjoys doing colour. Like, a lot. Any type of colour. Colour colour colour. From fashion shades to blondes and balayage and anything in between — they're down to make your hair goals a reality. They specialize in high fashion, edgy, and 80s hair metal inspired lewks!
In their spare time you can find them loitering at the dog park, foraging for mushrooms, going to rodeos, collecting crystals, playing Kirby, and conjuring spells.
***If you are showing symptoms of sickness of any kind you will not be permitted to enter the salon and will have to reschedule your service. Safety is our highest priority***


When you arrive:

Please have your vaccine card and ID ready to show reception staff.

Please come alone! If you need assistance and must bring someone with you, please let the reception team know. Guests will be required to show their vaccine card and ID as well.

The reception team will greet you to enter and verify your vaccine card and ID.

We require all visitors to wear a mask. If you do not have one we will have some available.

Please do not bring any outside food or drink!

Please show up to your appointment on time. We have a very strict sanitization schedule that we have to stick to for everyone's safety!

Hand sanitizer will be available at the front to use upon entry.


Thank you for your encouragement, patience and support through this time! We can't wait to see you 😊
Cancellation Policy
Due to Covid-19 we are currently waiving our cancellation policy until further notice. If you need to change or cancel your appointment please get in touch by phone, email or social media. Please refer to our website for further details.
Thank you from the Team at B-Bombshell Salon
info@bbombshellsalon.com
604-544-0199