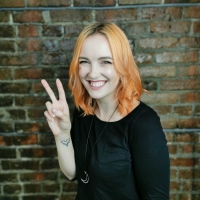 Sabrina Reiser
Magic Stylist


change service provider
If you would like to book a colour service please call/email/DM us! Colours are no longer bookable online.
Level 1 Magic
She/Her
Before becoming a hairdresser, Sabrina was an accountant for several years. What's nerdier than loving numbers and preparing taxes? The office life ended up not being for her, although she's watched the series multiple times.
Sabrina's hair love came about in high school during musical theatre productions, creating looks for herself and assisting others. While on her journey to becoming a makeup artist, Sabrina discovered a passion for the world of hairdressing.
Sabrina's favourite thing to do behind the chair is colour! Fashion colours and warm tones, such as beautiful super natural coppers and reds are her S Tier activities. Sabrina loves doing precise, medium and short cuts the most, but enjoys cutting all lengths of hair. She prides herself at making you feel comfortable while in her chair.
Her free time mostly consists of watching TV and movies with her black cat (named Sirius). The longer and more binge-able the show the better! Her favourites include Friends, Charmed, any Marvel series, RuPaul's Drag Race, true crime shows, and all things Disney. She also works alongside photographers, models and other creatives to do photoshoots, some of which have got her published in magazines.
When she's not doing hair, Sabrina loves being outdoors and listening to music. In the warm months, you can find her dancing at music festivals or camping with friends rain or shine!
***If you are showing symptoms of sickness of any kind you will not be permitted to enter the salon and will have to reschedule your service. Safety is our highest priority***


When you arrive:

Please have your vaccine card and ID ready to show reception staff.

Please come alone! If you need assistance and must bring someone with you, please let the reception team know. Guests will be required to show their vaccine card and ID as well.

The reception team will greet you to enter and verify your vaccine card and ID.

We require all visitors to wear a mask. If you do not have one we will have some available.

Please do not bring any outside food or drink!

Please show up to your appointment on time. We have a very strict sanitization schedule that we have to stick to for everyone's safety!

Hand sanitizer will be available at the front to use upon entry.



Thank you for your encouragement, patience and support through this time! We can't wait to see you 😊
Cancellation Policy
Due to Covid-19 we are currently waiving our cancellation policy until further notice. If you need to change or cancel your appointment please get in touch by phone, email or social media. Please refer to our website for further details.
Thank you from the Team at B-Bombshell Salon
info@bbombshellsalon.com
604-544-0199