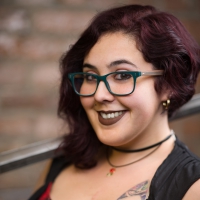 Talisa Correa
Mythic Rare Stylist / Commander


change service provider
If you would like to book a colour service please call/email/DM us! Colours are no longer bookable online.
Level 6 Mythic Rare/Salon Manager
She/Her
Talisa is a very calm and charismatic person. She works incredibly well with children and treats every client like a friend. When it comes to hair, she loves creating styles that are fun, but manageable.
She is exceptionally skilled with curly/wavy hair, but is also adept with other hair types. Her favourite things to do with colour are ombres, full-head fashion colours, and peek-a-boo highlights!
Talisa spends most of her time watching TV while snuggled up with her various critters–two cats, and a very floppy basset hound–and playing Dungeons and Dragons. She has video game experience, but considers herself to be on the other end of the "geek spectrum" (sci-fi, fantasy, comics, etc).
So if you're looking for someone easy-going and friendly, Talisa is your gal!
She ain't 'fraid of no hair.
***If you are showing symptoms of sickness of any kind you will not be permitted to enter the salon and will have to reschedule your service. Safety is our highest priority***


When you arrive:

Please have your vaccine card and ID ready to show reception staff.

Please come alone! If you need assistance and must bring someone with you, please let the reception team know. Guests will be required to show their vaccine card and ID as well.

The reception team will greet you to enter and verify your vaccine card and ID.

We require all visitors to wear a mask. If you do not have one we will have some available.

Please do not bring any outside food or drink!

Please show up to your appointment on time. We have a very strict sanitization schedule that we have to stick to for everyone's safety!

Hand sanitizer will be available at the front to use upon entry.


Thank you for your encouragement, patience and support through this time! We can't wait to see you 😊
Cancellation Policy
Due to Covid-19 we are currently waiving our cancellation policy until further notice. If you need to change or cancel your appointment please get in touch by phone, email or social media. Please refer to our website for further details.
Thank you from the Team at B-Bombshell Salon
info@bbombshellsalon.com
604-544-0199